Current Region Newsletter
November 16
I hope you are all well and staying safe. I am so proud to say that Region 7 is producing so much theatre in this crazy year. You're creativity is inspiring. Please pass this onto your students so we can get the word out. If you have questions or comments, feel free to let us know.
Ronn Campbell, MFA
Chair KCACTF Region VII
New website
If you have not seen the new website design, please go here to check it out.  All the latest event details and information can be found there. More to come.
Archiving Theatre in 2020
The Theatre 2020 Collection is seeking digital files from theatre professionals that could help future scholars and students understand this moment and how the theatre community responded. How has the COVID-19 pandemic impacted your career? Your organization or theatre company? How have your plans changed? We'll be collecting stories and files throughout the duration of the pandemic. Simply register as an individual or an organization, and we'll send you a link to a Box.com folder with instructions on how to upload content. You can choose to submit whatever files you are comfortable sharing that help document your experience or the experience of your organization. The Ransom Center will review submissions to ensure they align with the scope of this collecting initiative, and the files will be preserved and made accessible for research at the Center. For more information check out the Harry Ransom Center
Stage Director and Choreographers Society (SDC)
Directing Initiative
Given the unique conditions of festival this year, the SDC Directing Initiative event at Region 7 will also be a virtual event. The goal is to make the event this year something that directing students can participate in without needing too many resources. So the format of the event for the 2021 Festival will be different from years past.
This year the participants will submit a video presentation of their production ideas for the play they select from the list of options, with a focus on the scene specified in the list. The scenes themselves will not be recorded, just the director's presentation of their ideas, so they participants will not need to recruit actors, secure props, etc. as has been required in the past. The participant's presentations will be evaluated on the quality and articulation of their ideas, not at all the quality of the video submitted.
One student director from each region will be selected to participate in the National Kennedy Center American College Theatre Festival in Washington D.C. this April. The National Festival will also be virtual, and the experience will involve a prerecorded presentation very much like the one prepared for the Regional Festival. Unique educational opportunities will be planned for the award recipients at the National Festival. In addition, finalists receive a one-year Associate Membership in SDC. SDC underwrites the National Award(s), which is the result of a unique collaboration between SDC and KCACTF. Associate Membership in SDC introduces each regional finalist to the national community of professional stage directors and choreographers.
Guidelines for the event, including application information will be posted at the new Region 7 website very very soon at https://kcactf7.org/about-kcactf7/sdc/. The application process will be very similar to past years, except that the requirement that "The institution must have entered either an associate or participating production for the regional festival during the year in which the nomination occurs" will be waived this year.
The list of scenes which can be used for this year's event (including versions of the scenes in PDF) is here (under "SDC Scene Selections 2021"): https://www.kennedy-center.org/education/opportunities-for-artists/pre-professional-artist-training/kcactf/directing/
If you or your students have any questions, feel freeto email Andrew Golla, the Region 7 Directing Coordinator: gollaup@gmail.com
DEADLINE: The application deadline for this event is December 15, 2020 at 5 p.m.
Sponsor a Student at Festival
Every $60 supports one student's full participation at the Festival this year. Students will be awarded their scholarship through the region's REPRESENTATION, EQUITY, AND DIVERSITY (RED) INITIATIVE. RED is committed to assembling selection, scholarship, and award panels at Regional and National festivals that will create equitable representation of race, gender, gender identity, ability, and sexuality.
**** ACTF Management LTD-Region 7 is recognized by the IRS as a not-for-profit 501(c)3 charitable organization. Your donation is tax-deductible to the full extent of the law.**** 
Festival
December is only a few weeks away. We will have the registration up and running December 1. There will be options for individual and group registration. Details will be posted on the website as soon as it is ready.
Production Responses
First of all a HUGE THANK YOU to all the production respondents for sharing your time and experience in responding to all the regional productions. IF you have responded to a production we would like to remind you to fill out your response form here. Please try to complete the form by December 5th. If you have questions or would like to become a respondent contact one of the coordinators below.
Carrie Colton (California, Nevada) ccolton@msudenver.edu
Paul Yeates (Alaska, Washington, Oregon, Idaho, Hawaii) yeatrich@isu.edu
John Hill (Montana, Wyoming, Colorado) john.hill@frontrange.edu
---
---
November 2
More new information for you in this edition of the newsletter. Please pass this onto your students so we can get the word out. If you have questions or comments, feel free to let us know
Ronn Campbell, MFA
Chair KCACTF Region VII
We Need Your Photos
Thanks to the hard work of Scott Robinson and Keylee Anderson we have a brand new website!
www.kcactf7.org is still the main page but, be mindful that most of your bookmarks may have changed. Go peruse the new site and let us know what you think.
The region could use your help. We would like to highlight photos from this past festival on the new website. If you are willing to share your photos please send them to  Scott Robinson 
KCACTF/LORT ASPIRE Leadership Fellows Program
The KCACTF/LORT ASPIRE Leadership Fellows Program is designed to cultivate a new generation
of artistic and administrative leaders for the American Theatre with a focus of engaging Black,
Indigenous, and People of Color (BIPOC) and members of other groups that are historically
underrepresented in the field. This diverse national cohort of fellows assembled from all of KCACTF's
eight regions will engage in topics concerning equity, diversity, inclusion, and anti-racism as well as
leadership skills building, investigation of institutional challenges, and professional networking
opportunities.
One student from each region will be chosen to participate in a week-long fellowship that occurs as
part of the annual national convening of the American College Theatre Festival at the Kennedy
Center in Washington, D.C. The curriculum is designed and led by professionals from LORT
institutions in partnership with staff from the Kennedy Center and the American College Theatre
Festival Regional Chairs.
Applicants for the ASPIRE Leadership Fellows Program are evaluated based on potential and interest to:
Create and articulate an artistic or administrative vision
Lead and inspire others
Collaborate with all members of a team
Engage within the community at large
Think creatively and innovate
Articulate the theatre's role and relevance in global diversity and current events
For more info on the ASPIRE program, see the League of Regional Theatre's website here.
Interested in applying for the ASPIRE program in Region 7? All the info is below!
ROUND 1: APPLY FOR REGION 7 SEMI-FINALIST COHORT
To apply to become a Region 7 ASPIRE Program Semi-Finalist, complete the application here by
December 11, 2020. From these submissions, no more than 12 students will be chosen to move on as Semi-Finalists in the ASPIRE KCACTF Region 7 Program. Semi-Finalists will be given a second, more extensive written and oral presentation assignment for evaluation during the Festival so please apply only if you are prepared to complete the larger assignment, detailed below in ROUND 2 instructions. This year, all 12 ASPIRE Semi-Finalists from Region 7 will receive a full scholarship for their Regional KCACTF Registration Fees.
ROUND 2: CREATING A PITCH
By December 13, the ASPIRE Region 7 Semi-Finalist Cohort will be notified and sent the full
instructions for creating a Theatre Pitch to be presented to national arts leaders and working
professionals. A condensed version of the instructions, for the purpose of illustrating the workload and necessary commitment is below:
ASPIRE students will create and pitch a theatrical season and a new theatre company to a selectors
panel of theatre professionals. Students are welcome to consider the current impact of COVID-19 on
the performing arts industry. However, the current pandemic should not limit the student's imagination
in the creation of their company. This exercise will prepare ASPIRE students to think critically about
leadership styles, programming, and company models while demonstrating their ability to innovate and
think creatively.
The following is a set of guidelines to help prepare an effective pitch:
• Students have 10 minutes to present their pitch followed by 5 minutes to take questions from the selectors; students will be responsible for allocating their own time accordingly.
• The presentation must include the name of the theatre company, the mission of the theatre company, where the theatre company or theatrical season will take place (town, city, state, country), and play titles/authors (if known). This presentation may include a PowerPoint, Video, or other virtual display. articulating and illustrating the aforementioned information for review.
• Students should articulate the role and relevance of their season and/or new theatre company in terms of audience, community, and efforts towards greater diversity.
• Students should be mindful that while budgets, season calendars, and other higher-level elements of a theatre's operations are important, the allotted time does not provide the selectors a chance to review these materials critically. Emphasis on mission, values, season selection, and on audience and community engagement is strongly encouraged.
TIMELINE:
Late October 2020: ASPIRE Region 7 Semi-Finalist Cohort Application Opens
December 4, 2020: ASPIRE Region 7 Cohort Application Deadline
December 11, 2021: Semi-Finalist Cohort notified and given guidelines and resources to craft
Theatre Pitch
February 3-5, 2021: "Office Hours" ASPIRE Coordinators Available to Semi-Finalists to give
guidance, assist with pitches, and answer any questions
February 17 (afternoon)*: Semi-Finalist Orientation, Workshop, and Discussion
February 18 (morning/early afternoon)*: 15 minute one-on-one meetings for all Semi-Finalists torelay their Theatre Pitch to Industry Leader(s)
February 19 (afternoon)*: Semi-Finalist Workshop
February 19 (evening)*: ASPIRE Finalists announced
February 20 (morning)*: 25-30 minute one-on-one meetings for Finalists to relay their Theatre Pitch
to LORT Representative/Respondent
*dates and times during the week of Festival subject to change
Questions? Please email KCACTF Region 7 Aspire Co-Coordinators:
Jackie Apodaca apodacaj@sou.edu and Roman Sanchez roman.sanchez@arts.ca.gov
News from the Institute for Theatre Journalism and Advocacy:
Over the spring and summer initiatives all over the globe (and very much in the United States) have been asking theatre practitioners to address the systemic racism surrounding and supporting the theatre practices that have become ritual. Entertainment Journalism is undergoing a huge reckoning and change around the country and KCACTF has decided to support these efforts. Lead by journalist and activist Jose Solís, KCACTF will be helping to host ten virtual salons. They are titled: "The Critical Ecosystem with Jose Solis". First one is Thursday November 19th from 5-6:30pm PST. These sessions will also include members of The New York Theatre Workshop's Instigators.
The sessions are open for virtual attendance and will be quite exciting. More information to come on registration and attendance. Until then, please learn more about Jose and this wonderful program from this American Theatre Magazine article.
Festival 53
We are close to completing the registration gateway for students and faculty to register for the festival. We will be live by the beginning of December and will be sending those details in the newsletter and posting on the website. Stay Tuned!
Workshops
Workshop submissions are being reinvented this year. Our Workshop Committee is actively collecting information on subjects that our students are interested in. We will then be seeking faculty and professionals to teach these workshops. If you are interested in learning more please contact:
Kevin Neighbors  or Patrick Dizney 
Producaiton Responses
If you have not registered your production please do so with at least 2 weeks before opening night. Respondent coordinators need the time to schedule a respondent. All responses will be virtual, and can be from a video of the production if you are not streaming it online. If you have questions email one of our new Respondent Coordinators:
• Carrie Colton (California, Nevada)
• Paul Yeates (Alaska, Washington, Oregon, Idaho, Hawaii) 
• John Hill (Montana, Wyoming, Colorado) 
Register your production here – https://www.kennedy-center.org/education/opportunities-for-artists/pre-professional-artist-training/kcactf/production-entry/
---
---
October
I hope that your Fall is going well.  This newsletter has the latest on the festival coming this February.  The regional officers and coordinators have been working hard with their regional counterparts and national to find the best way to celebrate our students.  Most of the events you have come to expect and love at festival will be there, even if it is a little different.  If you have additional questions don't hesitate to reach out to the area coordinator or the leadership. 
Ronn Campbell, Chair
Region VII Festival 53
DATES – The virtual festival will take place on new days this year, February 17-20, 2021.  This will be a Wednesday – Saturday festival to make it easier for students to work around class schedules.
FEES – We reworked the budget and for the virtual festival the registration fees will be lower and all inclusive.  That mean no additional fees for different events. Registration will be open in November.
Students – $60
Faculty/Staff – $80
KEYNOTE SPEAKER
We are so excited to announce that Danielle Moné Truitt will be this year's Keynote speaker.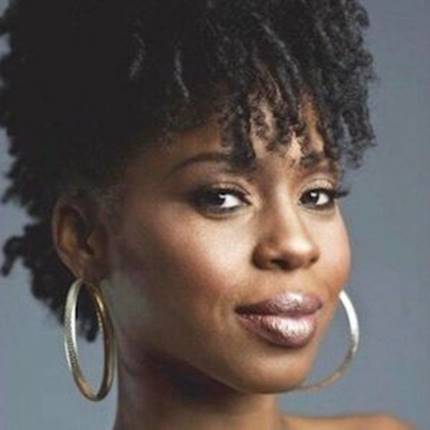 Danielle Moné Truitt is the true definition of a Triple Threat.  The actor, singer, and dancer hails from Sacramento, California where she studied Theatre and Dance at Sacramento State University before moving to Los Angeles to pursue a career in television and film. Truitt got her start in theatre, but received national attention when she was hand picked by the late John Singleton for the title role of his drama series Rebel. Danielle is now among a very short list of Black Actresses that have led their own television shows as the central character. Truitt also recently starred in FOX Networks new drama series Deputy as a series regular alongside Stephen Dorff. 
Truitt has been nominated for two Ovation Awards; the first for her performance in The Mountaintop and the second, for her role in Dreamgirls. She was also nominated for an NAACP Theatre Award for her role in The Mountaintop. She created a dynamic one woman play called 3: Black Girl Blues that she's produced and performed to sold out audiences in Los Angeles, Sacramento and New York. Most recently, she performed a #SafeAtHome version for social media during COVID-19. Some of her other stage credits include In The Heights, The Legend Of Georgia McBride, Aida, A Raisin in the Sun, Neat and Hair. Truitt has appeared on TV in guest starring roles on Snowfall, Super Fun Night and Mulaney. Truitt made history when she joined the cast of the Academy Award Nominated Animation The Princess and the Frog as the video reference for Princess Tiana. She performed the body movements and facial expressions for the Disney Princess, ultimately giving Princess Tiana her persona and essence as well as performing a voice for another character in the film, Georgia. 
IRENE RYANS 
The Irene Ryan's this coming festival will be obviously different in format and schedule.  This year in an effort to be accessible to students and programs that might not be producing shows the Irene Ryan's will allow students to self-nominate.  This does not negate those with Irene Ryan nominations, they can participate as well.  More information on video criteria and how to self nominate coming soon. 
How the Irene Ryan's will operate this year:
–  Ryan's will submit one (1) video with two monologues, as one file, as their package. No Scenes and no partners. Mp4 is the preferred format and we will be post more on this soon.
–  The videos should be no longer than 4 minutes and consist of a slate (Name and play titles) and two monologues.
–  Prelims will be due 3 weeks before the start of our official festival week. Date TBD. 
–  We will not be having semi-finals this year. We announce the 32 finalists on the first day of the festival or opening ceremonies should that be an option. 
–  We release the finalist's videos for public viewing on the second to last day of the festival.
–  Awards announced at the closing ceremony. 
–  Prelims will not have respondents this year but the 32 finalists will get feedback from regional respondents. This feedback will be written unless a student has other learning needs where a live or prerecorded response will be arranged for them. 
–  Students from any school not doing a fall production or had cancelled spring/winter productions can self nominate to enter as an Irene Ryan.
–  All videos (shot on a computer, phone, etc) must be shot horizontally and from at least the knees up, but no higher than hips up. The video must be sent as an MP4 file. They must slate clearly with both pieces at the beginning of the video. The video must not exceed 4 minutes in total.
–  If you have additional questions contact the Irene Ryan Coodinator, Shea King 
RED (Representation, Equity, Diversity)
Hello Friends and Colleagues, I am Ed Trujillo, RED (Representation, Equity, Diversity) Chair KCACTF Region VII, along with Natashia Lindsey, Vice-Chair. We are asking for your help as we are creating a RED Advisory Board for Region VII.
We are looking for students to sit on the board for one year as we create opportunities for increasing diversity in all of its manifestations at festival and during the school year. Students will receive training in helping plan the annual festival and also helping their theatre programs with advice concerning season planning, guest artists, curriculum and community outreach.
We know these are trying times and we have heard students' voices. They want to have their say. Attached is the Advisory Board Application and a KCACTF National Response to challenges we face as a nation and as theatre artists.
Please have your interested students contact us. We are extending the deadline to October 7, 2020, but will keep it open till we have the positions filled.
Ed Trujillo, RED Chair KCACTF Region VII  925-658-2989
Natashia Lindsey, RED Vice-Chair KCACTF VII   270-999-5558
WEBSITE
A brand new website is receiving it's finishing touches as you read this.  We expect it to go live this month.  We are so excited for you to see it.  It will have all the latest on the festival and events.  So please be patient as we make this transition.
Production Responses
If you have not registered your production please do so with at least 2 weeks before opening night.  Respondent coordinators need the time to schedule a respondent.  All responses will be virtual, and can be from a video of the production if you are not streaming it online.  If you have questions email Ashley DeMoville  or Vanessa Ballam.
From the Chair
I realize that there are many other events not mentioned in this newsletter.  The regional leadership and coordinators are working so hard to adapt to this virtual festival format. We will be sending out more information as soon as it becomes available
I wanted you all to know that there is amazing work going on in our Region.  Students and faculty are finding unique ways to produce theatre in this crazy time.  You are not alone, and I encourage you to reach out to other schools near you to see and support each other. 
If you have any questions, thoughts, or need clarification on items described above please reach out and contact me.
Ronn Campbell M.F.A.
Senior Associate Professor Theatre Arts Dept. Lead
509.542.5544, or ext. 2344 509.531.7707 cell He/Him/His rcampbell@columbiabasin.edu
2600 N. 20th Ave. Pasco, WA 99301